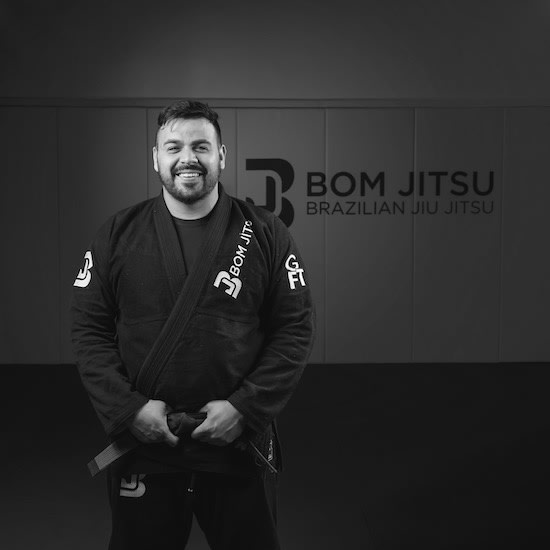 Guilherme Cordiviola
Professor Guilherme Cordiviola and is more popularly known as "Guigui or Gui" for those that know him. Born in Niterói in Rio de Janeiro, the youngest son of a Military Policeman, he grew up in the neighborhood called Jacarepaguá in Rio de Janeiro.
At the age of 14, he was introduced to Jiu Jitsu through his friend Leandro. Leandro said that Jiu Jitsu would help him lose weight, paid his monthly fee and gave him his first kimono. What Leandro did not know is that this generous and kind gesture it would forever change the life of "Guigui".
Guigui first trained Jiu Jitsu school at the Merck Fight Club. The school's founder and owner Professor Sérgio Henrique (also known as Professor Serginho) is a fourth degree black belt from Team Gfteam and a student of Mestre Baruana and Mestre Júlio César.
Since the first Guigui stepped on the mat, he knew what he wanted to do for the rest of his life. With only one month of training, he went to his first competition and won the champion. The adrenaline rush from that competition fueled his love for the sport and competitions became routine in his life.
He has collected several titles during his career including 3-time Brazilian National Champion, several state championships, and most memorable the coveted IBJJF World Jiu Jitsu Championship in 2013. After the World Championship Guilherme moved to Columbus, Ohio and began training and teaching Jiu Jitsu to professional fighters and the local community.
Later that year his father fell ill and he had to go move back to Brazil to help his family. In 2014, he became a banker and started working at one of the most famous banks in Brazil, but that desire to earn a living competing and teaching Jiu Jitsu still remained in his heart.
In 2014, he earned his brown belt and was asked to teach competition classes for teenagers who were competing on the BJJ circuit. What started out as fun became an inexplicable passion. That passion translated into a fun and robust BJJ program that has resulted in his students winning IBJJF Worlds Championships, Pan American Championships, European Championships, Brazilian Championships as well as many Open State Championships.
In 2017, he earned the bronze medal as a brown belt placing 3rd at the IBJJF Jiu Jitsu World Championship. He was promoted on the spot while on the podium in what he describes as one of the best feelings of his life.
Guigui's life changed in 2019 when his father passed away. He knew in his heart that banking was not his life's passion and took a step of faith by resigning from his job and followed his heart to compete and teach Jiu jitsu on a full-time basis.
In 2020 Guigiu and Michael Bowen combined their love for Jiu Jiu and brought their passion and expertise to the community of Castle Rock. They seek every opportunity to be a good example to everyone around them.